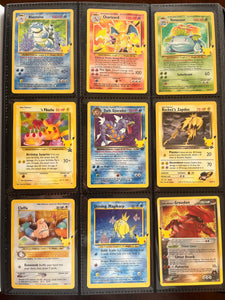 In the official Pokémon Trading Card Game (TCG), Master Sets are frequently in demand as people seek them for their collections. With Pokémon TCG gaining significant traction, value, and popularity since 2020, many incoming collectors may not be up to speed on the Pokemon collectible lingo, including "Master Sets."
A "Complete Set" typically refers to a collection that includes one of every official card from a particular Pokémon TCG expansion. Complete sets include any secret rare cards, such as 83/82 Dark Raichu in the Team Rocket Set. 
On the other hand, "Master Sets" include one of every variation of every card from a particular Pokémon TCG expansion. That means that if there are both holofoil and reverse holofoil versions of each card available in a particular set, such as in the Legendary Collection Expansion, the Master Set must include holofoil, reverse holofoil, and non-holo versions of each card (if they exist). 
Master Sets may also include "Promo Cards" from a particular expansion. In the Case of the 2021 25th Anniversary Celebrations Collection Complete Master Set, all 2021 Sword & Shield "Black Star Promo" cards containing the 25th Anniversary Logo must also be included in the master set. Another example would be the prerelease version of Misty's Seadra from the Gym Heroes Expansion. A Gym Heroes Complete Master Set may include the pre-release version of Misty's Seadra alongside the traditional Unlimited Gym Heroes Misty's Seadra, while a Gym Heroes Complete Set might only include one variation of the card. A complete set typically does not include promo cards, variations, or error cards. 
Whether or not the term "Master Set" should encompass all possible variations  of each card in a set is disputed; some people believe that Master Sets must include Promo Cards, Alternate Releases, Variations, and Error Cards to be considered a true "Master Set." Others argue that there are cards far too rare or expensive to be considered part of the set they were released with - for example, the "Pikachu Illustrator" card would be difficult to include as part of any Complete Set or Master Set. Others may use the term "Master Set" loosely or synonymously with the term "Complete Set." Whichever way that a set of cards is listed, be sure to inspect a list of included cards and photos of each card if possible before purchasing any Pokémon TCG sets.
Buy Complete Pokemon Sets mentioned in this article:
2000 Team Rocket Complete Set for Sale
2021 25th Anniversary Celebrations Collection Complete Master Set for Sale
2000 Gym Heroes Complete Set for sale