Original 151 Complete Set (151/150) 1999 [NM-MP]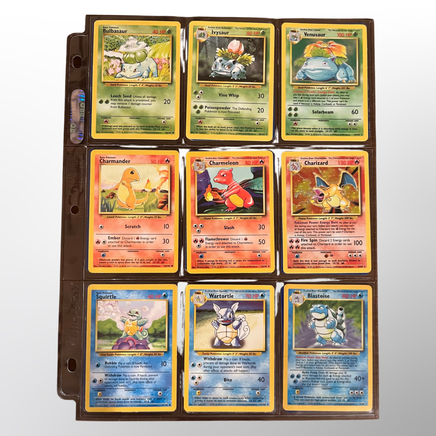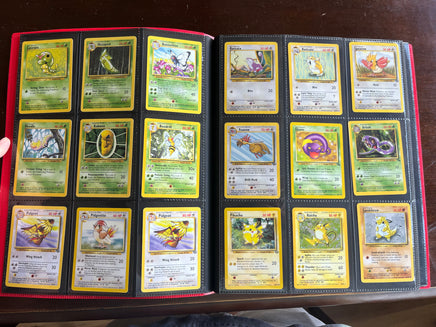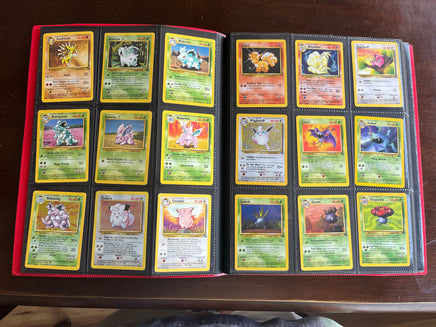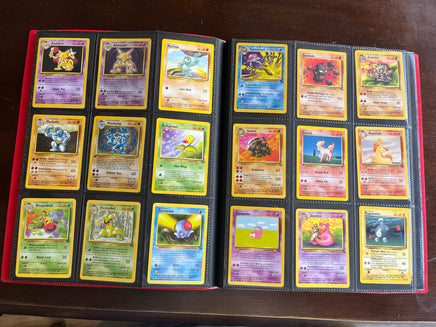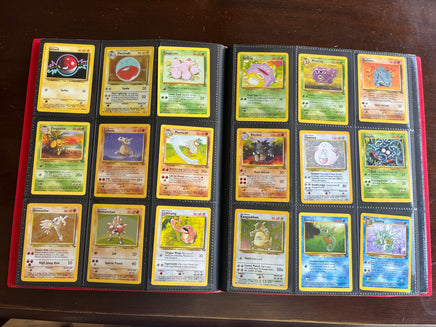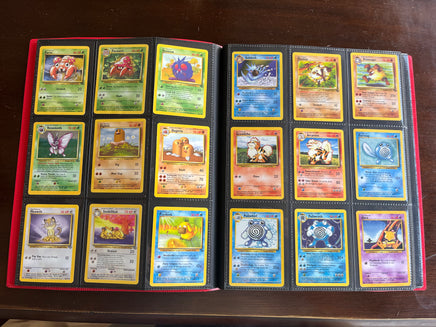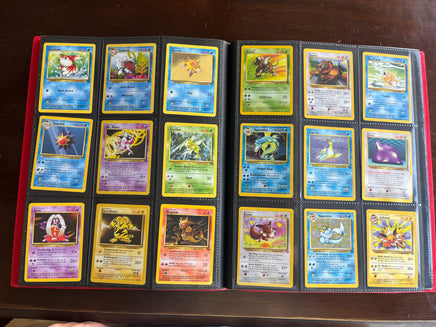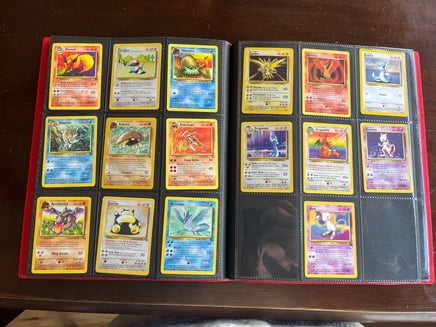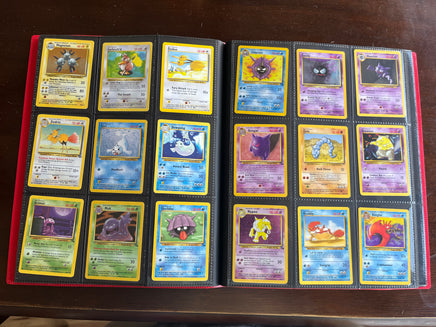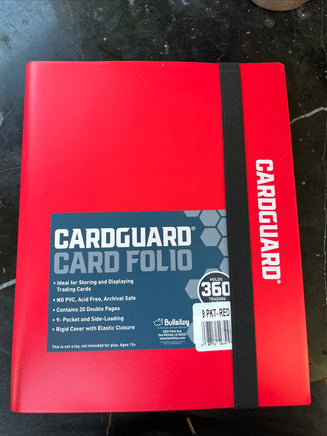 This is an authentic, Original 151 Pokémon TCG Complete Set. This set features all 151 original Pokémon cards from the first generation, including the highly sought-after 1999 Base Set Charizard. Each card is guaranteed to bring back memories of your childhood. Includes all Original 150 Pokémon, all 1999 Base Set holos, and a bonus WOTC Promo Mew card. This set is made only from cards from the 1999 Wizards of the Coast (WoTC) Base, Jungle, and Fossil expansion sets. This means that all cards are vintage, legit Pokémon TCG cards, and are built from the first 3 Pokémon TCG expansion sets released in 1999. All holofoil cards from the original 1999 base set are included in this set, as well as all the additional 1999 holos listed below. This set also includes at least 10 1st edition common cards from the 1999 Jungle and Fossil sets, and up to 30 or more. These generally include fan favorites like Pikachu, Eevee, Psyduck, Jigglypuff, or others, but the common cards vary from set to set, so feel free to ask which cards are first edition in the set before you order.  These set of cards is in excellent condition, with individual conditions ranging from Near Mint to Moderately Played. 
List of Holofoil Cards Included:
Alakazam - 1/102 (Base Set) 1999

Blastoise - 2/102 (Base Set) 1999

Chansey - 3/102 (Base Set) 1999

Charizard - 4/102 (Base Set) 1999

Clefairy - 5/102 (Base Set) 1999

Gyarados - 6/102 (Base Set) 1999

Hitmonchan - 7/102 (Base Set) 1999

Machamp - 8/102 (Base Set) 1999 (1st Edition)

Magneton - 9/102 (Base Set) 1999

Mewtwo - 10/102 (Base Set) 1999

Nidoking - 11/102 (Base Set) 1999

Ninetales - 12/102 (Base Set) 1999

Poliwrath - 13/102 (Base Set) 1999

Raichu - 14/102 (Base Set) 1999

Venusaur - 15/102 (Base Set) 1999

Zapdos - 16/102 (Base Set) 1999

Kangaskhan - 5/64 (Jungle Set) 1999

Lapras - 10/62 (Fossil Set) 1999

Muk 13/62 (Fossil Set) 1999

Wigglytuff 16/64 (Jungle Set) 1999

Hypno 8/62

 

(Fossil Set) 1999

Hitmonlee 7/62 (Fossil Set) 1999

Venomoth 13/64 (Jungle Set) 1999

Electrode 2/64 (Jungle Set) 1999

Vaporeon 12/64 (Jungle Set) 1999
Whether you're a long-time Pokémon fan or just starting your collection, this complete set is a must-have for any true collector. This set is also a great way to relive the excitement of the original Pokémon craze that swept the world in the late 90s. Each card features vibrant colors, sharp images, and the original first-generation stats. The cards are also made from high-quality materials, ensuring they will last for many years to come. This vintage complete set is rare and hard to find, making it a valuable addition to any Pokémon collection. Don't miss out on the opportunity to own a piece of Pokémon history!

All cards are 100% authentic or your money back. This is a complete 151 Original Kanto Pokédex set (the 1st generation pokedex). Includes only cards from 1999 Base Set, Fossil, and Jungle sets (no cheap substitutes). No rocket cards, no base set 2 cards, no modern cards. No fake cards or "from China" replica cards. This is a real, authentic Original Complete 151 Pokémon TCG Set or your money back. Since each card is authentic and over 20 years old, each set we build is unique. Don't be afraid to ask for closeups of any card or front/back photos that you would like to see!
Shipping:
Cards this rare are handled and shipped with extreme care
Side load binders used to prevent damage during shipping
Professional packaging, wrapped in bubble wrap and shipped in snug packaging
US Buyers: Shipped within 24-48 hours of purchase with free USPS Priority 2-day shipping
International Buyers: combined and reduced shipping rates available if you purchase multiple items. Any applicable customs/duties fees will be charged to you once the item arrives in your country, Tradingcardsets.com does not collect customs/duties during checkout. 
Complete list of all Original 151 Pokémon Included:
#1 Bulbasaur
#2 Ivysaur
#3 Venusaur
#4 Charmander
#5 Charmeleon
#6 Charizard
#7 Squirtle
#8 Wartortle
#9 Blastoise
#10 Caterpie
#11 Metapod
#12 Butterfree
#13 Weedle
#14 Kakuna
#15 Beedrill
#16 Pidgey
#17 Pidgeotto
#18 Pidgeot
#19 Rattata
#20 Raticate
#21 Spearow
#22 Fearow
#23 Ekans
#24 Arbok
#25 Pikachu
#26 Raichu
#27 Sandshrew
#28 Sandslash
#29 Nidoran F
#30 Nidorina
#31 Nidoqueen
#32 Nidoran M
#33 Nidorino
#34 Nidoking
#35 Clefairy
#36 Clefable
#37 Vulpix
#38 Ninetales
#39 Jigglypuff
#40 Wigglytuff
#41 Zubat
#42 Golbat
#43 Oddish
#44 Gloom
#45 Vileplume
#46 Paras
#47 Parasect
#48 Venonat
#49 Venomoth
#50 Diglett
#51 Dugtrio
#52 Meowth
#53 Persian
#54 Psyduck
#55 Golduck
#56 Mankey
#57 Primeape
#58 Growlithe
#59 Arcanine
#60 Poliwag
#61 Poliwhirl
#62 Poliwrath
#63 Abra
#64 Kadabra
#65 Alakazam
#66 Machop
#67 Machoke
#68 Machamp
#69 Bellsprout
#70 Weepinbell
#71 Victreebel
#72 Tentacool
#73 Tentacruel
#74 Geodude
#75 Graveler
#76 Golem
#77 Ponyta
#78 Rapidash
#79 Slowpoke
#80 Slowbro
#81 Magnemite
#82 Magneton
#83 Farfetch'd
#84 Doduo
#85 Dodrio
#86 Seel
#87 Dewgong
#88 Grimer
#89 Muk
#90 Shellder
#91 Cloyster
#92 Gastly
#93 Haunter
#94 Gengar
#95 Onix
#96 Drowzee
#97 Hypno
#98 Krabby
#99 Kingler
#100 Voltorb
#101 Electrode
#102 Exeggcute
#103 Exeggutor
#104 Cubone
#105 Marowak
#106 Hitmonlee
#107 Hitmonchan
#108 Lickitung
#109 Koffing
#110 Weezing
#111 Rhyhorn
#112 Rhydon
#113 Chansey
#114 Tangela
#115 Kangaskhan
#116 Horsea
#117 Seadra
#118 Goldeen
#119 Seaking
#120 Staryu
#121 Starmie
#122 Mr. Mime
#123 Scyther
#124 Jynx
#125 Electabuzz
#126 Magmar
#127 Pinsir
#128 Tauros
#129 Magikarp
#130 Gyarados
#131 Lapras
#132 Ditto
#133 Eevee
#134 Vaporeon
#135 Jolteon
#136 Flareon
#137 Porygon
#138 Omanyte
#139 Omatstar
#140 Kabuto
#141 Kabutops
#142 Aerodactyl
#143 Snorlax
#144 Articuno
#145 Zapdos
#146 Moltres
#147 Dratini
#148 Dragonair
#149 Dragonite
#150 Mewtwo
#151 Mew