Gen 2 Johto Starter Evolutions Framed Showcase Set (9) 2000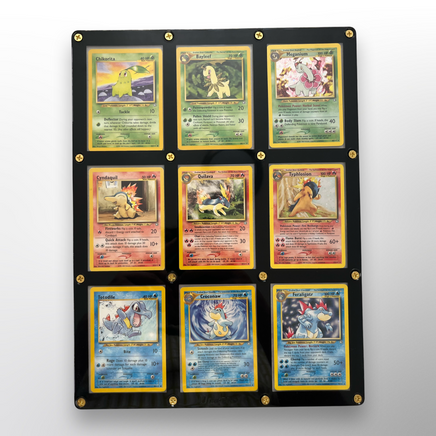 Celebrate the Dawn of a New Pokémon Era!
Journey deeper into the Pokémon world with our handpicked framed ensemble, spotlighting the luminous starter evolutions from the Johto region of Generation 2. This carefully curated set pays homage to the icons that marked a new epoch - Chikorita to Meganium, Cyndaquil to Typhlosion, and Totodile to Feraligatr.
Key Features:
- Johto's Evolutionary Jewels: Revel in the splendor of the 2000's Base Set Johto starter evolutions. From Meganium's serene embrace of nature to Typhlosion's fiery spirit, and Feraligatr's commanding water prowess, immerse in the core of the Johto legacy.
- Ultra Pro's Premium Protection: Showcased within a 9-card Ultra Pro screw-in frame, every card is not only highlighted but also safeguarded against time, ensuring their vibrancy endures.
- Ready-to-Display Excellence: With integrated hangers on the back, showcasing this masterpiece on your wall is a cinch. A perfect fit for any space, it's destined to captivate and inspire awe.
- A Collector's Paradise: This isn't merely a set of cards but a chronicle of Johto's rich heritage. An indispensable piece for seasoned collectors, newer enthusiasts, or those tracing the evolution of the Pokémon world.
Dive into a realm where new tales began, where the Johto champions redefined what it means to be a Pokémon. Every card, every evolution echoes the adventures, the battles, and the legacy of Generation 2.
Secure this iconic representation of the Johto journey - claim yours while stocks last!