Gen 1 Starter Pokemon Framed Complete Set (4) 1999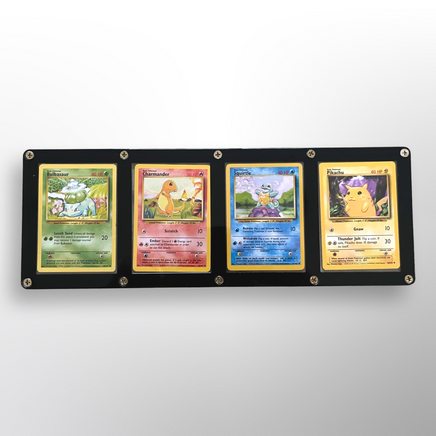 Journey Back to Where It All Began!
Relive the magic of the Pokémon universe with our meticulously curated framed set of the iconic 1999 Base Set Unlimited starters! Immortalize the very essence of Pokémon with Pikachu, Charmander, Squirtle, and Bulbasaur - the timeless Gen 1 starters that ignited a global phenomenon.
Key Features:
- Legendary Lineup: This unmatched collection showcases the iconic 1999 Base Set Unlimited Pikachu, Charmander, Squirtle, and Bulbasaur. While they might not be in grading condition, their visual allure remains untainted, making them perfect for display.
- Ultra Pro's Finest: Safeguard your memories with a frame crafted by Ultra Pro, renowned for its premium quality. Offering both protection and elegance, the frame ensures your cards continue to shine, reminiscent of the days of Pokémon's dawn.
- Sleek Design: The frame's refined look ensures your cherished cards remain the focal point, adding a touch of sophistication to any setting.
- Nostalgic Treasure: Perfect for fans who've journeyed through the Kanto region in the games, followed Ash's adventures on TV, or dueled with these cards in the early days. This set encapsulates the heart and soul of the Pokémon legacy.
Whether you're a seasoned trainer, a budding Pokémon Master, or looking for the ultimate gift for a Pokémon aficionado, this framed set is a priceless addition.
Experience the magic of yesteryears - secure this limited edition today!