Gen 1 Kanto Original Base Set Starter Evolutions Framed Showcase (9) 1999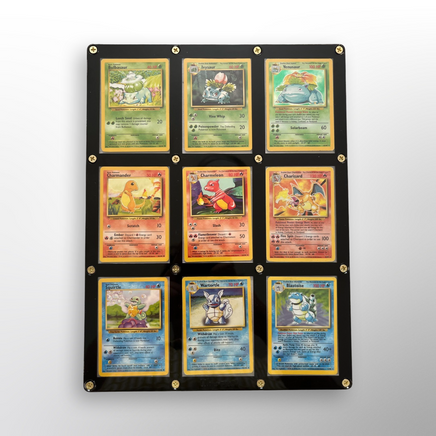 Capture the Genesis of a Pokémon Legacy!
Product Overview:
Step into the captivating world of Pokémon with our exclusive framed collection of the trailblazing starter evolutions from the Original 151 set. This impeccable set honors the inaugural heroes of the Pokémon realm - Charmander to Charizard, Squirtle to Blastoise, and Bulbasaur to Venusaur.
Key Features:
- Iconic Evolutionary Trio: Relish the majesty of the 1999 Base Set starter evolutions. From the fiery spirit of Charizard to the serene strength of Blastoise and the earthy power of Venusaur, experience the essence of Pokémon's origins.
- Ultra Pro's Elite Protection: Encased in a 9-card Ultra Pro screw-in frame, this set not only highlights the beauty of each card but also offers top-tier protection, ensuring the preservation of these cherished memories.
- Designed for Display: The frame comes equipped with built-in hangers, making it a breeze to showcase this collection on your wall. Whether it graces your living room, office, or gaming den, it promises to be a conversation starter.
- Collector's Dream: This set is not just a collection of cards but a piece of Pokémon history. Perfect for seasoned collectors, nostalgic fans, or those embarking on their Pokémon journey.
Indulge in a piece of the illustrious Pokémon saga, impeccably displayed for aficionados who understand the true value of beginnings. A blend of history, art, and passion, this set is a testament to the enduring charm of the Pokémon universe.
Elevate your collection with this limited edition - order yours today!